Alistair Bremner
11 Kilmorich
Cairndow
Argyll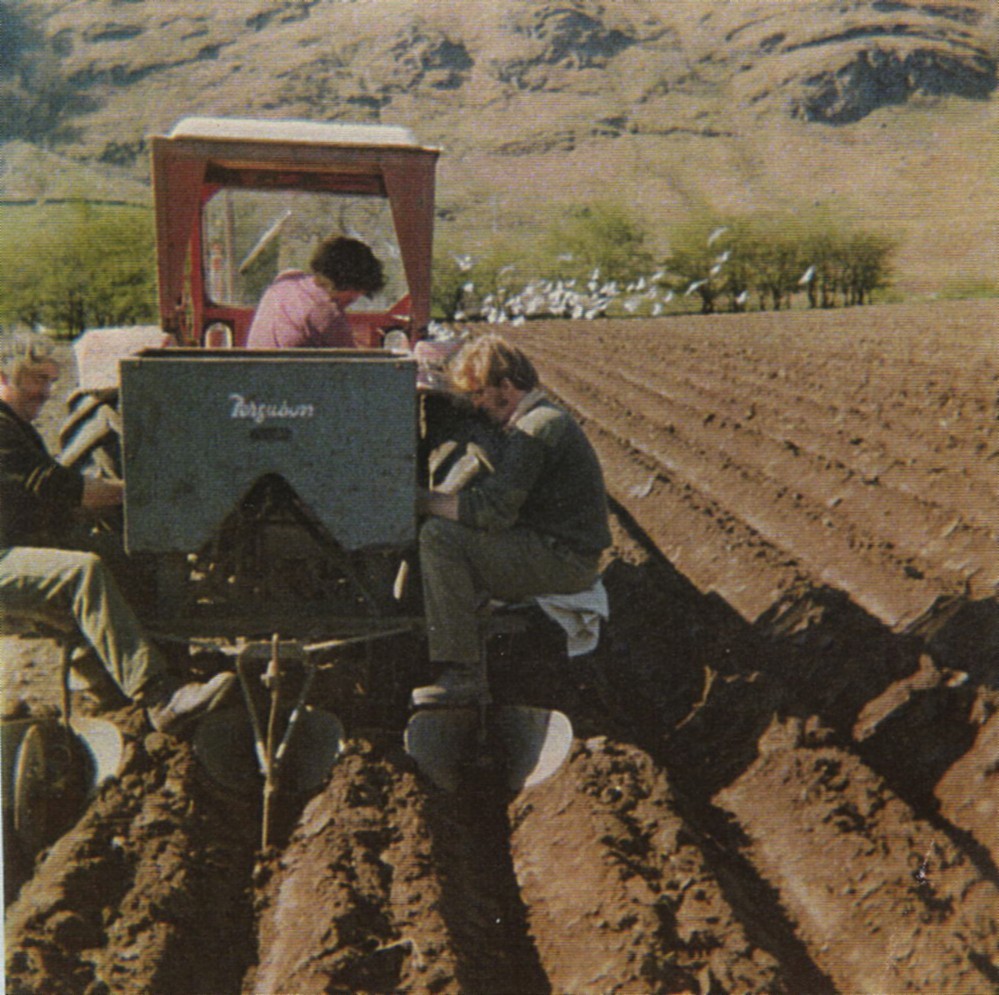 Alistair Bremner (Brem)driving the tractor

Dot ChalmersHere We Are9th December 2016


Where were you born Brem?
I was born in Thurso, Dunbar hospital.
And how long did you stay there for?
Well, my first school as in Watten which is up there, in Caithness. I was only there for about six months I think and then the chase of the holy grail, of the better job started and then we moved to a place called Ousdale it is in Wester Ross, then we moved to a place just outside Dingwall the name of the farm was Woodlands, but I went to Evanton school and that maybe took me till I was eight and then we moved to Ulva, which is an island off Mull, and sure enough after one year we moved from Ulva onto Mull, to Lochbuie and we worked for a guy named John Corbett.
What age are you now then?
I am still in primary school, went to Lochbuie school in Invergeldie , and then we moved from there back to the mainland, Invergeldie, to Funtullich which is up the back of Comrie in Perthshire, and then after again probably a couple of years we moved to Eileann Shona, which was my last primary school, which is near Acharacle and that's where I went to high school, for some reason we stayed there a good long while because I never went to any other high school, I went to various primary schools but I only went to Lochaber High school. When I left High school I started work in Glen Lyon, we were moving again, moved to Pubil and that is where I got my first job that was where I got my first dog.
What age were you then?
15
Left school at 15, can you remember how much you got paid then, what your first wage was?
Yes, I think it was £18 for a month.
And did you get a dog allowance?
Yes, possibly actually I'm not sure.
I worked on Megernie Estate, owned by WH & HO Wills the tobacco people, Sir Edward Wills. For some reason because I was young I was seconded onto the stalking at that time of year and I had to look after the pony, which they had for bringing the stags in and the pony had a saddle on it, and the deer was put on the saddle (what a carry on that was) as it had to be tied on the correct way and what not. Because of the nature of the land, you know Glen Lyon quite steep and rough that was the only way you could get them off, and that was my job, I would be following round below, when they shot a stag I would come in with the pony and get the pony organised and get this bloody deer on it! There was no Argo's then!
Did you enjoy that?
Ehm…No, it was cold and wet and you just did it because you had to, there was no choice in it, augh it was only for a couple of years anyway and then we moved to Islay, and we were there for four or five years.
What was your job out there?
Stockman, which meant you looked after sheep and cattle, we did some tractor work but we didn't do any ploughing or anything, again when it came to hay or silage you were expected to take a week at hay and maybe a week doing silage, especially if they happened to be filling the pit, where we stayed like at Killinallan if they were making silage there you would be involved in it. But we seemed to be making silage in Islay for ever, used to start at the middle of May the first cut, and you would be still cutting silage going into September. And the pits were massive, we used to have draff from the distilleries and of course there are a lot of distilleries in Islay, so we got a lot of that and it was put into the pits first and then the grass went on top of it, but there was a lot of cattle there. It was Lord Margandales Islay farms that we worked for, which most people new it as Islay House, it doesn't exist anymore.
When we went there first of all, Killinallan house was in a bit of disrepair so we stayed in Bridgend, the blue houses for a couple of years and travelled to Killinallan every day to work, it was three or four miles it wasn't far but Bridgend was where Islay House is, that was there headquarters as you might say, they had a big workshop, employed three people and they looked after the tractors and all the machinery and they did a bit of other farms work, they would bring in their machinery as well.
And then we moved to Killanallan and we got various perks because it was isolated, we did quite well out of it. They used to have the breeding stock that was kept at Killanallan, they were all year olds and two years olds, you know they were calves, as soon as they came off their mother they came to us and we would keep them till they got first bulled heifers, and then they would go to their various farms in Islay Estate.
What breed of cattle were they?
They were cross highland again at that time we used to have pedigree highland cattle, and we used to go to the Highland Show and quite often won it! They were quite good cattle! But we had about fifty at Gortantaoid, the next farm down the way from us and we looked after this fifty cattle, I don't know if you would be allowed to do it today, but the cattle we had there had their horns cut off them by the vet, so it would help with feeding, so that they didn't damage each other with their horns.
What was the name of that farm? I'll never be able to spell it!
Gortantaoid it was gaelic.
It was my father that looked after them, that was his job, he was the shepherd down there, there was about 800 sheep and this fifty cows, they were pure highlanders, but there was a short horn bull that went on them, they were quite difficult to deal with, but they weren't quite so bad because they were crosses and we didn't need to tag them immediately, it was in the first few days you could get the tags on them. But if we had highlanders, they had to be done that day. And oh….what a carry on it was because the highland cow would have her calf and hide it, you would know she had calved but you would need to watch her for half the day till she went back to where the calf was, and then you would have to get a hold of this bloody calf, and get the tag on it because it was pedigree, and you had to know when it was born and its mothers tag number. They all had gaelic names as well and the boss who was from Aberdeen had to name them and he did not speak gaelic!
Was the mother quite protective?
Oh….very quiet often you would need to bring the tractor and trailer, and get the calf under the trailer because as soon as you caught it, it would go "bhaa" and the mother was wondering what you were doing to it and she would be trying to get under the trailer to get at you….but it was fun!
But that was all part of the Highland Show business, because they were going to the Highland Show you were se-conded into training whatever was going to the show to go on a halter….and that was fun, because they had never seen a man hardly, and then you had to get them to lead them round the show ring….and it was interesting!
Sometimes there was cows that they wanted to show but they were too wild they couldn't get them to walk on a halter.
There was TB testing everyone tested for that, but there was Brucellosis accredited cattle, that was another job getting blood from them all. So because of that all the farms in Islay House had double fencing round them to stop the accredited cattle making contact with the non-accredited cattle, the fences were not that wide so it was a piece nonsense really. The Islay House herd was accredited.
We had a bit off a tragedy, when we had these young cattle the year and two year olds, and one night the tide caught about thirty of them, and they just appeared on the shore, drowned and that was probably the biggest reason for leaving Islay, because it was a bit of a sickener, it just happened. We were on Islay when the moon landings took place and down from Killinallan there was what was called the "warren" which was sand dunes with the rushes, and I remember us sitting in the house watching the moon landings on TV and my father came in and upset my sister Margaret by saying he had seen them down in the "warren" and it was a fake, and she was quite upset. It was funny that years later there was some issues that the shadows were the wrong way around, but he definitely didn't see them in the warren! The young cattle used to shelter in that, but we don't know what happened, but some of them turned up in Colonsay which was the island next to us. My father was quite upset by it and he wanted out of there.
Brem could you tell me when you moved here and where you moved from?
I moved here in 1972, I came from Islay; a farm in Islay called Killinallan.
And what age were you then? What is your date of birth?
2nd of April 1952 so I would have been 20.
What was the reason you came to Cairndow?
Well, yes, um, my father was always wanting to go looking for the holy grail, wanting a better job, we had stayed a while in Islay and it was an island, and that had its drawbacks so we decided to come back to the mainland and we came on the 12th or the 4th of July I know it was that
Why do you remember that?
Because its either, America's Independence Day or it's the big thing in Ireland, marching bands and when we were in Islay we had Ulster television so therefore everything to do with Ireland was more known about than about Scotland because we didn't get STV we got Ulster TV.
How did your dad find out about this job then?
I don't know but I think it would have been advertised in the Oban Times or the Scottish Farmer one of them and Johnny Noble and David Drummond came to interview us in Killinallan.
Was that John or Michael Noble?
I think it was Johnny Noble, yes it definitely was, and then we got the job and Ernie MacPherson, Alistair MacCallum and Angie MacDiarmid came out with a cattle float and moved us.
And can you remember that day?
Oh aye! And that was my first time meeting Ernie, and I came on the lorry with Ernie, and it was interesting.
What do you mean by interesting?
Well, local chap he knew everything about everywhere and was pointing things out as we were going along, because I was from the sticks remember, being in Islay.
And I remember when I got the job here I started off as tractor man and I was a bit concerned, coming to the mainland that they would be much more modern, and, so we had got a new tractor on Islay Estates as it was, and I was getting all the information on what was different about it, and when I came here it was like going back in time, because the tractors were small and old, I should have been going to look at the old crofter farms in Islay, they didn't even have that then they had all been modernised and we had a system where we would buy new tractors every second year, two of them were replaced and it was quite up to date, they were all Massey Fergusons and they were quite big in comparison to the 135's that we had here, and we used to call one of the tractors "The Big Tractor" it was big tractor because it had a big cab on it that was all, it wasn't any bigger than any off the rest. And the silage making was quite old fashioned here compared to what we did in Islay but anyway.
Was it making much less silage or was it the whole process?
Well the whole process off doing it was much smaller here, I mean the cut was probably about two foot, but it was quite remarkable that in later years we caught up and we had the exact same machine here as we had had in Islay, maybe five years previous or more!
So that would have been Cairndow Estate you came too?
Yes it was, yes the Ardkinglas Estate was different, but my father went to Ardkinglas Estate he was engaged by Ardkinglas Estate, that's why Johnny Noble was over for the interview.
When you got here where did you live?
We lived up in Stalkers cottage.
So you and your mother and father and who else?
My whole family, George and Hughie, Tina and Margaret, Tina and Margaret went to Dunoon high school and George went to Cairndow, I suppose Hughie went to Cairndow as well, they were all still in school then.
So you are the oldest?
Yes
So what was it your father was doing on Ardkinglas Estate?
Shepherding, he was a shepherd
So, did he have a hirsel?
Possibly, but I don't know where
Do you know who he would be working with?
Yes, I can tell you that, it was Alistair MacCallum he was head shepherd and Roddy and Angie MacDiarmid were there, and that was it I think.
When you came to work for Cairndow Estate were you always tractor man?
Yes, I was engaged as tractor man that was all, it was only after years gone bye, that I became more involved with the sheep, I had one dog, it was the same dog as I had from when I left school, and she was still with me so I would help now and again, with gathering and dipping and clipping, but it was not my job.
So you were never in charge of a hirsel?
No
I learned to clip in Islay, it was petrol driven shears
Petrol, I've never heard of petrol?
Yes,they were Briggs and Stratton motors, there was two worked off them, they were good because they could go anywhere if there was not power and that was the case in Islay, one of the places in Islay was near Bunnahabhain distillery and there was no power there, so there was no power at the fank so we had to use these mobile ones
When you came here did you use electric shearers?
Yes, we did and the clipping sets, where as in Islay we didn't have the clipping sets.
What did your job involve when you were tractor man?
Making hay was Michael Nobles passion, I had to make hay, he would be in the House of Lords in London and he would come up, by plane, get into his big Rolls Royce, car and not stop till he was in the fields seeing if the hay was ready for baling. That was his passion, oh aye, if we succeeded in getting a lot of bales of hay in, you had done a good job and he was delighted.
Did you get a bonus or anything for that?
No, …. Ha ha
When you moved to the house, the house would be a tied house through the estate?
Yes,
Did you get any allowances, like coal or keep a cow?
Definitely not, we didn't have a cow I don't think we were allowed; we had a cow in Islay that was the good thing about Islay, you didn't get paid much but you got a lot of perquisites, perks, you would get coal we had free electricity as we were on the generator for Killinallan as there was no mains electrivity, we got a fortnight off to cut your own peat and that wasn't part of you holidays, you just got the time off.
That was good though, so you didn't pay for your coal, can you remember if you got coal here?
No, no.
I think it came to Islay in a puffer.
The same as here.

That was certainly the case when we were in Mull before we were in Islay.
So, when you were working at Achadunan then I take it, it was Achadunan you were mainly working at?
Yes
Who were you working along with?
Em, any of the shepherds when required really, silage making and we used to us the kids
When you say kids, who was that?
John (Beattie), your brother and Pokey (James MacCallum) and Brian Wilson was another one.
So that would be the late 70s?
Yes, I suppose so, because John started working with us full time when he was 16 when he left school.
And what was it he did?
He was on the tractor as well.
I can't remember that
Well he was.
When you moved to Ardno, were you working at Ardno or were you still working at Achadunan?
My mother and father left after about a year, on my 21st Birthday and I went into lodge with John Baker who moved to Cairndow and was in Achadunan Cottage, and then about another six months a year I got married to June Livingstone from Inveraray and we moved into Bridge Cottage, we stayed in it for, probably a year maybe more and then they moved me to number 4, Hydro Houses, I don't know why maybe to get me somewhere bigger, because the Bridge Cottage only had one bedroom. And then from there I moved down to Ardno because the new house that had been built, it was built on an agricultural grant and they were going to have to pay back the grant if they didn't have an agricultural worker in it, because it was a holiday house, and I got it.
That was nice?
Aye it was..... very.
The problem with number 4 was the under floor heating we couldn't run it because it was so expensive, so I moaned at that and the house at Ardno needed an agricultural worker so I got put into it, and then I was given a mini pickup to go up and down to Achadunan, so although I was living at Ardno I never really worked there.
When it came to hay or that all the shepherds were involved in it, especially when it came to taking the hay in at night, when it had been baled, into the shed, as I said earlier Michael was delighted when it was in the shed, didn't matter that it was the worst rubbish hay ever or the best as long as it was in a bale and in the shed he was happy.
Did you ever have any dealing with Michael, did you speak to him?
Oh yes, lots of times, you would be summoned to the kitchen at Strone, and he was a heavy smoker and he smoked, I don't know what they were but they were in a tin and I mean he shouldn't have smoked because Christ he would go into a fit of coughing and you didn't know what to do, whether he would come out the other end or not! He would tell you any changes that were going to happen.
Was he quite approachable?
Yes, he was always there and that was the difference when he went there was nobody and he was the figure head and if he said yes, it was yes and if he said no it was no. Whereas when the family took over, you had Johnny Delap giving you instructions on bits and pieces and how he thought the farm was doing and then there Captain Warburton, Maria's husband, they were the only two that took anything to do with it, Rebecca's husband Jonathan Boyle didn't take much to do with it.
What about Denzil How?
Well he just took to do with Ardno, but Kate would speak to you, she was probably the only sister who took anything to do with anything and the employees, but then I was staying at Ardno she sort of moved into Ardno at that time and then I left, when Willie took over.
So what fields were all hay then?
Point park was always hay, don't know why just tradition.
Is that the one in front of the house?
No, it is the one in front of the house I was talking about, the bungalow, and the one in front of the house was hay as well and the one next to that, in fact all the lower fields were hay, but then over time they had to start making silage, because the weather was so poor we weren't able to make decent hay, or any hay so we made a pit sort of temporary thing, nowadays health and safely would have a fit but however….
Where did you make that?
It was at Ardno, it was just a sort of temporary job
That lasted for years!
Dug out the ground.
And then it was just throw in and covered?
Yes
At Achadunan what fields were hay?
Well there wasn't a lot of them hay, it was more traditional that it was all silage, the first, second, third and fourth field were all made into silage because they were closer to the pit, the pit was in the yard at Achadunan, between the big shed and the old buildings.
Was there anything else grown at Achadunan?
We did direct drill kale, turnips which were stripped grazed by the lambs at the back end of the year to try and fatten them up for sale, the cattle got the silage and the sheep in the big shed got the silage as well.
So was this the sheep that were in for lambing?
They tried to work with improvers they were Finnish Land Race cross breed, they had loads of lambs they weren't very productive. The idea was they were wanting them to have three or four lambs but as time progressed that wasn't very successful as a sheep only had two teets and she can't rear any more than two successfully. But when they first started in the big shed, they were trying to get more per ewe than the norm and we had these cross breed things, ucht it didn't last very long. And we went onto the mules the same as everyone else, and of course we had the old black face ewes as well.
Mules did you say?
Mules, which is a cross breed which is on the go now, a cross between blackies and grey faced Leicester. Well anyway we worked with them, just like most people who have crosses now, and they were better, they were much bigger and the obviously the lambs were bigger and more successful. I think, I, we had one or two Suffolk's as well which were crossed, they were kept in the fields during the summer and then in the winter they were in the big shed.
There was about 30 cows which were crossed highlands or Luing, tried to get them as a sort of breed of its own as it were, they were short horn bull put to the highland cow and this gave you this cross that they thought was quite successful, I don't know if it's still on the go or not.
The Cadzoe Luing on the Isle of Luing they introduced this for some reason. Going back to the other crops we had we had two or three acres of potatoes, which we grew for the workers, they were put in a pit, either at Ardno or Achadunan and you could go and help yourself to them, it was just part of the wages.
We used to grow Golden Wonders, which were rubbish
Were they!
Well they were small and never very great but we grew them anyway because Donald and Ernie liked them, and we used to grow Pentland Dells and Kerrs Pink which were big and white and soft, they were very good, well size wise, you could get lots of them for the same bit of ground. We grew rape as well it was a green, not unlike kale, it was not as strong as kale it was for the sheep.
So there was quite a lot of experiments on what would be best for the sheep and the cows?
Oh aye, they were quite innovative I suppose that was Michael wanting to make the best of what was there, like the big shed I don't know who's idea that was, it was there when I came here in 1972, and over time we used it more and more, we had the annual sale there, it was generally in October, we sold all the lambs and old ewes, we had both Ardkinglas Estate and Cairndow Estates it was all one big day.
Was that to private sellers or was that to the market?
The market would come with their buyers, it was just another sale, but instead of us having to pay for them going to the market the buyer had to pay to take them from us and we used to get the same buyers coming back year after year, you know if they found that the sheep had done well with them, you would get the same people coming back for the old ewes and the lambs.
So do you think that Cairndow Estate farms had quite a good reputation for their sheep?
I think they probably did because the same people used to come all the time, there was a guy Smith from down the Borders seemed to buy a lot of them, he always bought the top lambs for some reason. We didn't sell cattle at that sale, it was just sheep and it was all over in a day, it was a lot of work leading up to it because everything had to be tidied up to the sale. We used to get people who weren't normally involved in the farm, in the run up to the sale like Charlie McLaren who stayed down at Inverfyne he would come for maybe the month prior to the sale and help making the pens, there was quite a number of these sort of people, another guy was Roddy Luke and he would get pens ready, tidy up and fix fences, just to make the place look good for that day.
Did you have any students working with you?
Yes, we did we had one or two, we had one who was a student vet for two summers.
Was he off any use, was he helpful?
Yes, he was good, I can't remember his name that is a disgrace! He was a big guy who played rugby.
So you were talking about having cattle, about 30, where were there?
There were in the, what is now the brewery at Fyne Ales, that had been the byre, a traditional byre, years previous it had been owned by the Langs and they had a dairy there, and when it was decided to use it for cubicles and the cattle were put in there in cubicles and we used to clean it out with a scraper on the back of the tractor every day, and then we had this slurry that we spread on the fields and that helped to keep them fertilised.
So was the cows never out then?
Oh aye they were out in the summer but were in there in the winter, they more or less went in, it would be November or so, just when we needed to start feeding them. By that time we had round bales, and we used to dump the round bale in a tray thing that the cattle just gathered round and eat from it.
Are you still talking about the seventies Brem or are we into the eighties by this time?
I think we will be talking about the eighties now.
So where did the cows go for sale?
Oban
The shepherds that were here when you came here?
There was Donald who was the head shepherd, and Ernie stayed in Lindsays which is now Croft Kennels, and the Campbells stayed in which is still Campbells.
See old Archie what did he do?
He was sort of handy man at the hotel
Was he?
I think so
So he wasn't a shepherd or anything?
No not then.
And Michael Griffen was in the house next to that.
Lower Croitachonie and was he a shepherd in 1972?
Yes, and there wasn't anybody in the house above, I think it quite soon became a holiday house.
There was another guy Kitt Reid who lived over the loch next to Jimmy Waddle he stayed in Rowantree. Donald Beaton was in Butterbridge, Johnstone Munro was in Laglingarten.
Where did that Kitt Reid stay?
Glaschoine
He stayed in Glaschoine?
Aye, he had a part of it, yes Kitt was there.
Who was in Upper Glaschoine then?
I don't think there was anybody, I can't remember a worker being there. Johnny Baker came and he was in Achadunan Cottage, his job was to look after the low ground sheep, these ones that we were crossing and trying to make more prolific. Johnny came from Bishoptown, he was working there in the same sort of roll for the ship building guy, Lithgow, he worked for Lithgow, and he also has a place down at Ormsary. (Landcatch fish farm).
Now long did you work for Cairndow Estate?
I think it was about 12 years.
And why did you leave?
Well after ten years, well Michael died and the farm was let to Willie Findlay and I was made redundant by Cairndow Estate, and I was reemployed by Willie, because I knew the hills and whatnot and would be able to help him when he started, and I was with them for two years as I was obliged to, that was part of the condition that I would stay for two years, so I stayed for the two years and then I decided that I wanted to change and I went to work over on the other side of the Rest felling trees for a week, and I thought I spent more time on my backside than I did doing anything else, and I thought "this is no for me" and Ernie, good old Ernie came up and I was staying by this time in Rowantree. The last time I spoke I was living in Ardno, well I got moved from there back up to Achadunan, and then to Rowantree when I first started with the Findlays.
I think I went to Rowantree because it wasn't a tied house and I was paying rent, when I was made redundant by the Estate, when Michael died quite sudden and I think we had about a year of the family running it and then they decided they couldn't or didn't want to continue and wanted to let the farm to a farmer and that is when Willie came in. He had a year when he still had Blairvockie Farm at Balmaha so we were running back and forward to both places, working both of them, it was quite hard going. I remember Live Aid was on so that will give you some idea of what the date was, because we were clipping sheep over at Blairvocky when Live Aid was on.
Well as I was saying, Ernie appeared and said he was going round to Iain Mirrlees to offer him a job on the fish farm, and I said if he doesn't take it I will, he came back round and said he wasn't taking it he wasn't interested, and it was a job at the hatchery, well it wasn't really at the hatchery, it was working night shift for Rostad working week on, week off watching the cages which had just appeared.
So I started that for about six months, eight till eight, seven days on, seven days off and then on my week off I worked with John MacDonald, so it was quite lucrative for me then, I was reasonably well off because I had two wages.
You had two wages but you were burnt out?
Ough well, I was younger then.
So sometimes on your weeks off you would go and do lambings, where was that you went?
Flass Farm, Weststruther that was for Tom and Mary MacFarlane, they had just been there for one lambing prior to me going, and I was there for their second lambing and it was very very intensive, and just completely different from anything I had ever done before, because it's in the Borders and it was quite educational because the farm had roads on it everywhere, you know where its normally farm tracks going from field to field, well they had concrete tracks everywhere so that everything could move fast. And with the cattle, well on when I worked on Cairndow Estate there was thirty, they had about six hundred cows in slats and when the lambing was coming to an end you had to go and look these cows and there was an elevated walkway that you could walk round and look down and see every cow, and if there was anything calving you had to take her out and, well Tom's theory was if the two feet and the nose were there get it out there was no reason for it staying in there, and he had a sort of machine for doing it, and it was reasonably simple. I went there for about ten years.
How many sheep were you looking after at the lambing?
There was about six hundred to one thousand, they were all inside in every shed in the place, there were little drops here, there and everywhere, and for one or two years I was there he lambed the hogs, you know that's the year younger, but he didn't continue with that. There was me and an Irish man who used to come from Northern Ireland for the lambing as well, he was Alisatair as well.
We were though seeing Tom a couple of years ago and he says he doesn't do it that way anymore as he can't get anyone daft enough, to do the work that we did.
It was long nights wasn't it?
Well we started at ten and we were supposed to finish ten but it inevitably went on till dinner time, you would be there till half twelve one o'clock then you would have your lunch and then go to bed.
It was a big eye opener, because every lamb when it was born was given cows colostrum, and Mary his wife did a lot of the work during the day, and we did it at night. We were predominately having twins, by this time scanning had come in and you knew what everything was going to have and the bulk of them were expected to go out with two lambs, so anything that was having one and you saw her lambing, there was other ones a lot of them were going to have three, if you could manage it, if you had time, you were quite busy right enough, you would pinch one of the three's and give it to the one who was having one, so that everything went out with two, that was the theory, and it worked!
We had around one hundred and fifty and two hundred individual pens, and some nights because you were there from ten until supposedly ten you would quite often have more than thirty lambing or thirty lambed. And he worked on a system when the lambs were two days old he wanted them out of individual pens into communal pens, so that they were able to mother up, and then in another two days they went out to the fields, and this was in the middle of March and I would be there for two or three weeks, and this would be my holiday when I worked on the fishfarm. I would try and get two or three weeks because then again it would pay for holidays abroad, which we quite often used to go on.
So it was worth it?
Oh aye
Did you enjoy it?
Yes, and I looked forward to it because they were nice people and they've got two kids now. Every year on their Christmas card we get an update on how the farm is doing.
So they are still there?
Oh yes, he is well known, Scot Sheep was held on their farm on the Flass, a few years ago now, I don't know if Scot Sheep still happens, used to be a biannual thing, where a farm would open its doors for a day or a few days to let other people see what was going on and how they did things. He was very, very modern. All these six hundred cattle I was talking about weren't sold to store, they went to the abattoir.
What does that mean, sold to store?
Sold for other people to fatten them up, he did that himself and everything went to the abattoir, he was very aware that, I think Scot Beef or somebody went bust once and he was lucky enough that he didn't have any cattle owed to him so he was very good at spreading it about so that if one of them went bust he wouldn't go bust with them.
How many people worked on that farm then or was it very modernised?
It was very modern, there was only about three of them.
My goodness!

There was a tractor man and a stock man and that was about it, he used a machinery ring, and a pool of labour from other farms when needed, they would come in to lift stones, hundreds of them, clear a field of stones. There was a lot of folk that would come around, they came during the lambing time, but all they did was bedding in the individual pens, they had a big machine that bedded the cattle, they would take a round bale and blow it into each individual shed so that there was no manual work needed.
Down there one farm would maybe buy a big combine harvester, and it goes into a machinery ring, each different place would get the use of it, I would be working at night and you would see someone ploughing there all night, it was never ending. There was only the one stockman, the whole time I was there, and Tom and Mary, Tom would appear about five in the morning and he would still be there at midnight.
We went to see them last year and as ever it had evolved things had changed, where they are they got waste from sweetie factory's to feed the cattle, you would be walking along with silage under your feet and maybe some marshmallows and liquorice, and you are thinking "what a waste"! The sheep were eating them as well, making use of what was available.
While I was there the foot and mouth was a worry from their farm way in the distance you could see one of these pyre's that they had for burning the carcases.
That most have been about 2000? Well that was about the last time I was there.
That would be scary!
He had a brother who was near Dunns, Dunns was affected by it but luckily he managed to stay clear of it, but it was a worry then it was too close for comfort then.